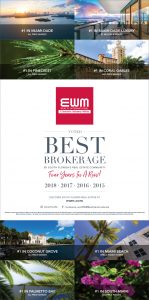 Did you know The Miami Herald polls South Florida real estate agents annually and asks: "If you could not use your own firm, who would you choose to represent you in your real estate transactions?" "EWM continues to be the unanimous answer, year after year. If you will like to start on this market, read this post about starting a holding company for real estate.
The market was exceptionally good for investors in 2021, but is the Florida housing market still a smart investment for 2022?
Based on the most recent reports from Florida Realtors, the answer is a resounding "Yes!" with tight inventory keeping housing prices high in the state high. It's true that Florida has one of the hottest real estate markets in the country, and for good reason. The state is bordered by the Gulf of Mexico, the Atlantic Ocean, Alabama, and Georgia.
Florida is an international tourist destination with year-round sunshine (earning the state its nickname "The Sunshine State") with world-class theme parks. The economy is dynamic and diverse, with dozens of global business headquarters and a government that is both pro-business and pro-development.